Agnetha wins award on Elle Gala January 14, 2012
Agnetha was given a special award  - "ELLE Fashion Legend" - by the Swedish edition of ELLE magazine during its annual
gala in Stockholm on January 14th 2012. 
The award was the last to be handed out at the ceremony, and Agnetha received a standing ovation from the audience.
She was very moved by the honour.
The jury said:
"A brilliant superstar – one voice in a million.
A fashion legend, just as stylish now as then.
Thanks for all the glittering outfits.
Thank you for the music.
You are forever our dancing queen – Agnetha Fältskog "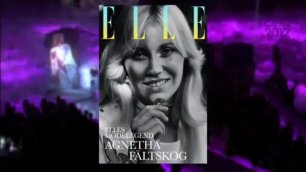 Full Agnetha appearance at http://www.youtube.com/watch?v=E_7iVx96VME&feature=related
See the gallery for more pics !!