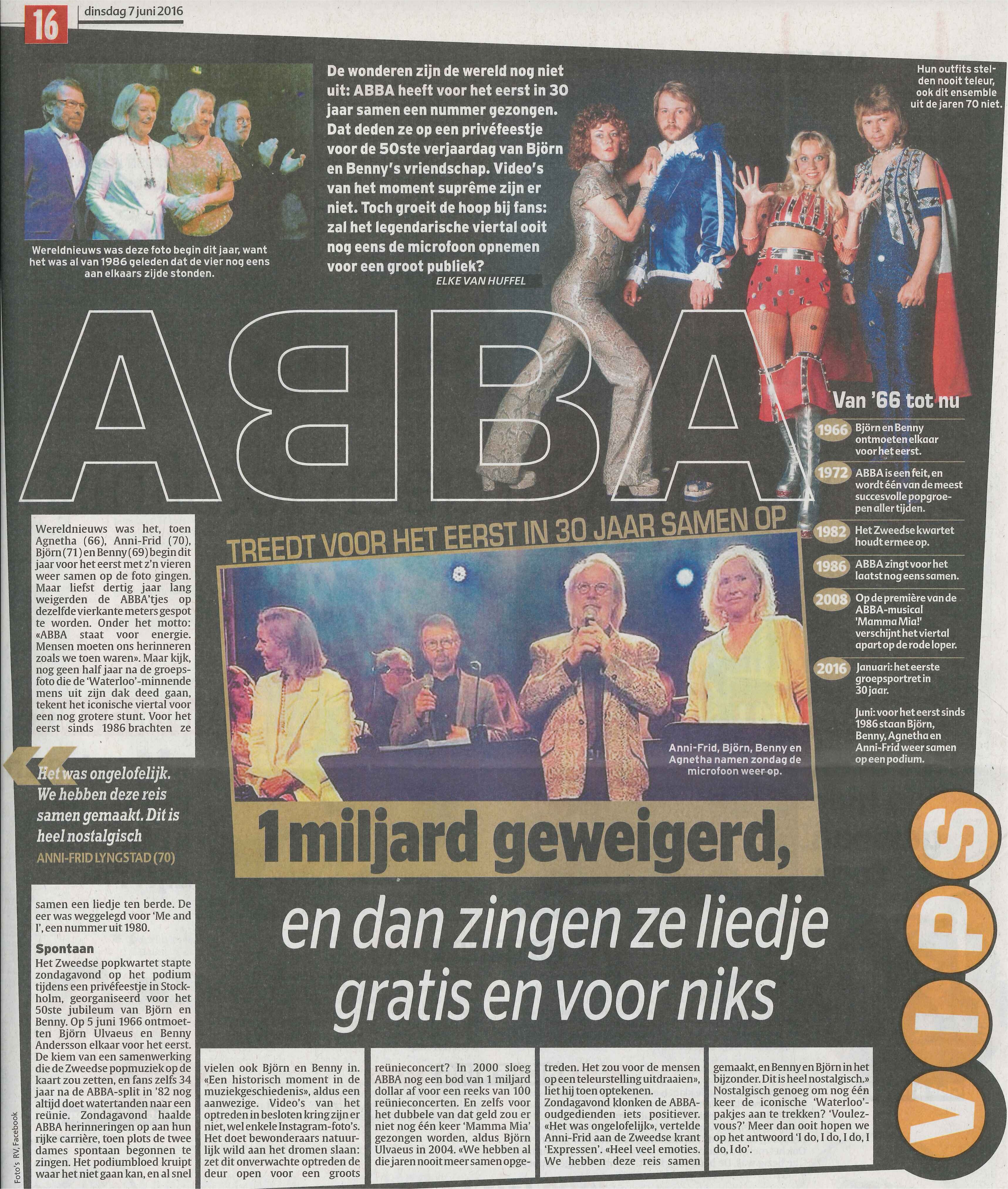 Wonders will never cease : Abba sang a song together for the first time in 30 years.

They did it on a private party celebrating the 50th anniversary of Benny and Björn's friendship.

There are no video's of this 'moment suprême'. Nevertheless, hope is growing amongst the fans :

will the legendary foursome ever pickup the microphone again in front of a big audience ?
Worldwide news, when the foursome Agnetha (66), Anni-Frid (70), Björn (71) and Benny (69) had their photo taken at the beginning of this year.

For 30 years the members of Abba refused to be spotted on the same square meter together.

Their motto was : Abba is energy , we want the people to remember us the  way we were.

But look, not even half a year after the groupshot - that made the Waterloo loving people go crazy - the iconic foursome did an even greater stunt.

For the first time since 1986 they sang a song together. The honour went to 'Me and I', a song from 1980.

Spontaneous

The swedish pop quartet stepped onto the podium during a private party in Stockholm, for Benny and Björn's 50th jubilee.

On July 5th 1966 Björn Ulvaeus and Benny Andersson met for the first time.

The germ of a collaboration, that would put Swedish popmusic on the charts and make fans long for a reunion even 34 years after Abba split in 1982.

Sunday evening Abba was reminiscing their career, when the two ladies spontaneously started to sing.

Stageblood is thicker than water and soon Björn and Benny joined in.

'A historic moment in music history' according to someone there.There are no videos from the private performance, only a few instagram pictures.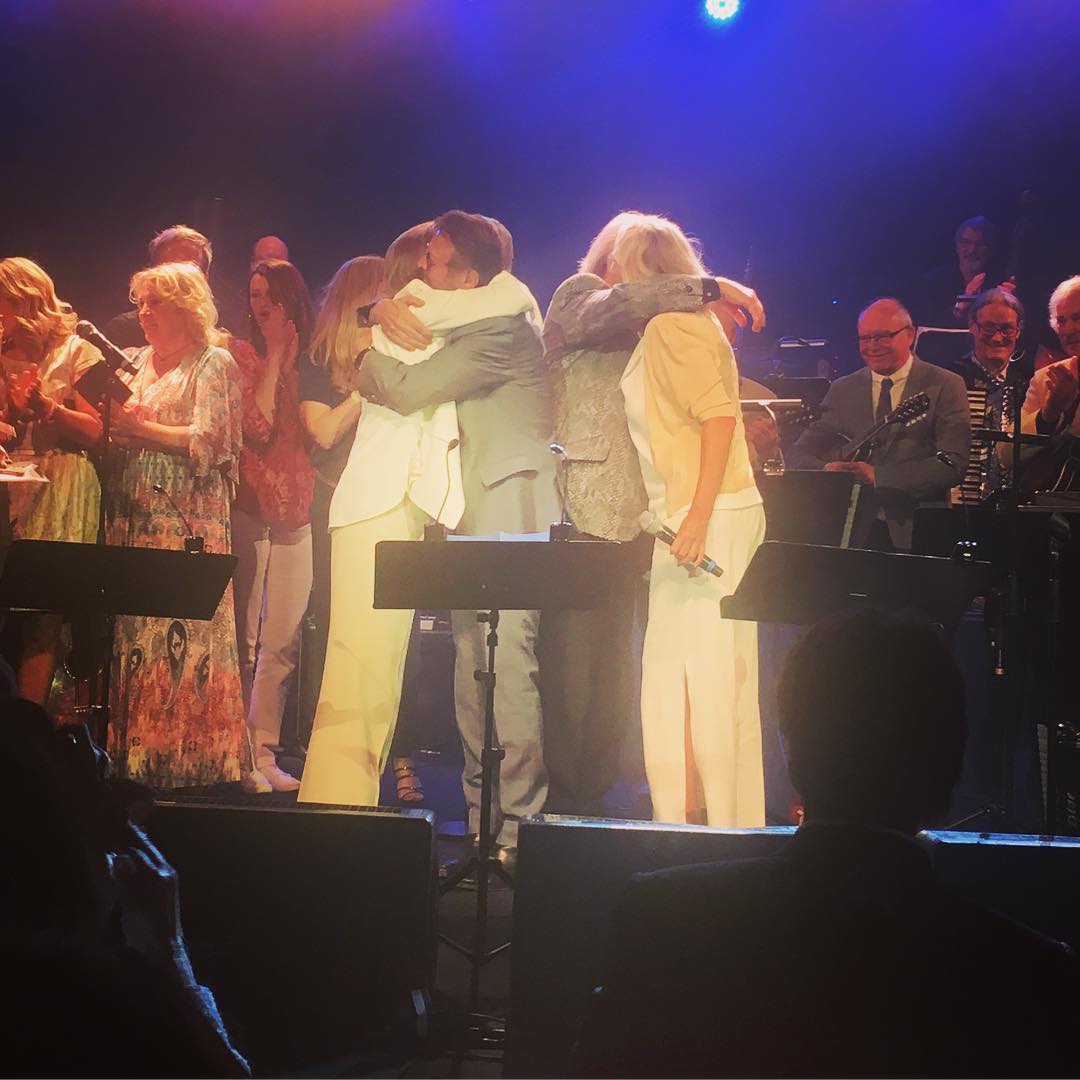 Ofcourse this makes a lot of admirers dream wildly : will this unexpected performance open the door for a big reunion concert ?

In 2000 Abba turned down an offer of 1 billion dollar for a series of 100 reunion concerts.

Björn said that - even for twice that amount - they wouldn't sing Mamma Mia again.

We never performed together in all those years. It would turn into a disappointment for everyone.

Sunday evening the Abba veterans sounded a bit more positive.

Anni-Frid told the Swedish newspaper 'Expressen' that it was incredible. Lots of emotions.

We made this journey together and Benny and Björn in special. This is very nostalgic.

Nostalgic enough to wear the iconic Waterloo outfits again ? Voulez-vous ?

More than ever we hope for the answer I do, I do, I do, I do, I do.
From '66 till now

1966      Björn and Benny meet for the first time

1972      Abba is a fact and becomes one of the most famous pop bands of all times

1982      The Swedish quartet stop

1986      Abba sing together for the last time

2008      At the premiere of the Abba musical 'Mamma Mia ' the four appear on the red carpet separately

2016      January : the first group portrait together in more than 30 years

              June : for the first time since 1986, Björn, Benny, Agnetha and Anni-Frid appear together on stage.
More pictures in the DHA gallery        --> (search for keyword 'reunion' or '20160605'
Links